Best of Top End Birding July 22-30, 2019 2 SEATS AVAILABLE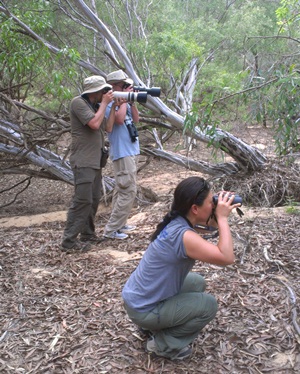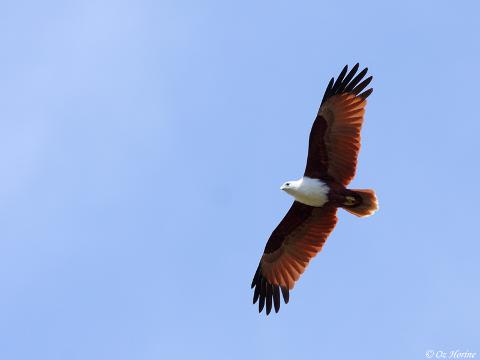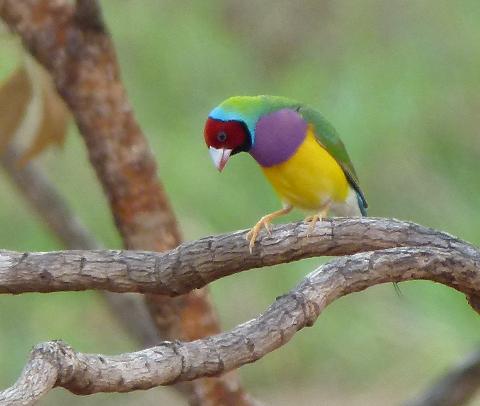 Duration: 9 Days
Product code: BOTEB 07/19
Nine day, eight night tour starting with prime birding locations around Darwin's mangroves, monsoon forests and parklands, then Mary River National Park and the famous Kakadu National Park. We continue on through open savannah country to Pine Creek and Katherine. Then we follow the Victoria River through wide open plains and rugged escarpment ranges to Timber Creek. From there we explore Keep River National Park on the WA border before crossing into WA for the 5 hour Lake Argyle Birdwatching Cruise. We birdwatch around Kununurra and the tour finishes with a one hour flight from Kununurra to Darwin. Total distance covered - 1800 kilometres.
Key species - Gouldian Finch, Yellow-rumped and Pictorella Mannikins may be seen at various locations between Darwin and Timber Creek. Hooded Parrot, Northern Rosella, Red-winged Parrot, Cockatiel, Red-tailed Black Cockatoo, White-quilled Rock-pigeon, Buff-sided Robin, Partridge Pigeon, Purple-crowned Fairywren, Black-tailed Treecreeper and Sandstone Shrike-thrush. Red Goshawk, Black-breasted Buzzard. Kakadu escarpment endemics such as Chestnut-quilled Rock-pigeon, White-lined Honeyeater and Banded Fruit-dove. The Argyle birdwatching cruise should give us sightings of Yellow Chat, Long-toed Stint, White-quilled Rock-pigeon and other special species!


Will this tour suit me? All accommodation is in comfortable air-conditioned rooms with ensuite. A (cheaper) 'thousand star' camping option is also available. We start before dawn and stop for a bush breakfast at beautiful locations surrounded by birdlife at its busiest. Lunch is enjoyed out in the field and dinners are a la carte menus at resorts or restaurants. Groups are small, with a maximum of only 6 enthusiastic fellow birders.
Kununurra to Darwin extension (optional) will return you back to Darwin, calling in to some very special locations not visited on the first trip. The reverse trip runs July 31-August 4.
Four day extension is $1975 per person twin share. See details here. Taking this option gives you a 13 day unforgettable immersion in Top End wildlife, landscapes and culture! Total cost for the 13 day trip is $6970 (single supplement $1240).
ITINERARY

DAY 1 - DARWIN to MARY RIVER
DAY 2 - MARY RIVER to KAKADU

DAY 3 - EXPLORE KAKADU
DAY 4 - KAKADU to PINE CREEK
DAY 5 - PINE CREEK to VICTORIA RIVER ROADHOUSE - breakfast with Gouldian Finches
DAY 6 - VICTORIA RIVER ROADHOUSE to TIMBER CREEK - real outback country!
DAY 7 - TIMBER CREEK to LAKE ARGYLE
DAY 8 - LAKE ARGYLE and KUNUNURRA
Please Note: The above itinerary is based on the outcomes of many previous tours to the areas described. Each season is different and as various wildlife observing opportunities arise and depending on the preferences of the group, adjustments will be made.
Inclusions - Accommodation, all with queen bed and single configurations, airconditioning and ensuite - one night at Mary River Wilderness Retreat, two nights accommodation at Kakadu, one night at Pine Creek, one night at Victoria River Roadhouse, one night at Timber Creek, one night at Lake argyle and one night at Kununurra. Yellow Waters Sunset Cruise, Lake Argyle Birdwatching Cruise, all meals, Kakadu Park entry fees. Cold water, tea and coffee and refreshments available at all times. GST.
Exclusions - Pre and post tour accommodation, alcoholic drinks, purchases of a personal nature such as souvenirs, etc. Flight from Kununurra to Darwin. Airnorth flies to Darwin everyday and twice on Thursdays. They also fly to other regions.
Group Tour - Maximum six people, $4995 per person twin share, single supplement $875