Experience Wild Sri Lanka February 1 to February 18, 2020 FINAL PAYMENT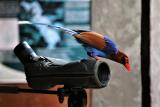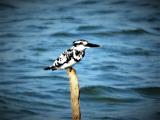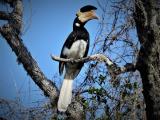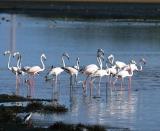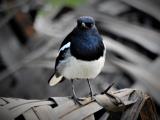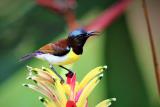 Duration: 18 Days
Product code: WSL 02/20
Key species
- Sri Lanka has 33 endemic species which are often the key target species for serious bird watchers. There are a further 53 species that are endemic to India and Sri Lanka, and some of these are easier to see in Sri Lanka than India. Mammals, reptiles and invertebrates also feature on our targets list.
Day 1 ARRIVAL Saturday 01/02/20 - Airport Transfer
Arrive at Bandaranaike International Airport and transfer to your hotel at Katunayake. Meet your guides, Upali Ekanayake and Mike Jarvis.
Dinner and overnight stay at Tamarind Tree Hotel. www.tamarindtreehotels.com
Day 2 Sunday 02/02/2020 KATUNAYAKE to SINHARAGAMA
Early morning birding around the hotel grounds before breakfast.
After breakfast we travel north along the coast, making several birding stops along the way as we pass through Chilaw, Anaivilundawa Ramsar Wetland, Mundel Lagoon, Navadankulama Tank and Puttalam Lagoon.
We spend the afternoon birding around the gardens at Hotel Sinharagama Resort.
Each night over dinner we review the days sightings using your complimentary Checklist Journal and preview the next days locations and targets.
Dinner and accommodation at Sinharagama Resort & Spa.
Day 3 Monday 03/02/2020 Explore WILPATTU NATIONAL PARK
A very early start carrying picnic breakfast and lunch to do a full day safari in jeeps in the Wilpattu National Park which is famous for birds and other wildlife including the Sri Lanka Leopard.
Dinner and accommodation at Sinharagama Resort & Spa.
Day 4 Tuesday 04/02/2020 SINHARAGAMA to MANNAR
We make several birding stops along the way as we pass through a number of wetlands around Thanthirimale, Cheddikulam, the amazing historic Giant's Tank Sanctuary, Vankalai Ramsar Wetland and two small Thallady Ponds.
Dinner and accommodation at The Palmyrah House.
Day 5 Wednesday 05/02/2020 Explore MANNAR
After exploring the grounds at Palmyrah House, where we are likely to see Eurasian Hoopoe, Grey Francolin and Black Drongo, we enjoy breakfast then spend the morning exploring the Uramalai and Adam's Bridge area. This area teams with waders, terns and gulls. In the afternoon we explore the Poonaryn Road area.
Dinner and accommodation at The Palmyrah House.
Day 6 Thursday 06/02/2020 MANNAR to HABARANA
Breakfast at the hotel. We search good birding locations around Mannar and then head back to Habarana via Medawachchiya and Anuradhapura.
Dinner and accommodation at The Other Corner.
Day 7 Friday 07/02/2020 HABARANA to KANDY
After breakfast at the The Other Corner, we proceed to Sigiriya Sanctuary area for a short birding session. We continue on to Kandy where we check in to the Hotel Suisse, then visit the historic Peradeniya Royal Botanic Garden in the afternoon. Kandy is also a great place for souvenir shopping if there is time.
Dinner and accommodation at Thi Lanka Hotel.
Day 8 Saturday 08/02/2020 KANDY to KITULGALA
Visit the Royal Forest Park, Udawattakele. Continue on to Kitulgala, bird around the gardens at Kitulgala Rest House
Dinner and accommodation at Kitulgala Rest House.
Day 9 Sunday 09/02/2020 KITULGALA
Explore Kitulgala village area. The Kelani River runs through the thickly forested area and is a magnet for white water rafting thrill-seekers. It is also the location for the filming of 'The Bridge on the River Kwai' filmed in 1957.
Dinner and accommodation at Kitulgala Rest House.
Day 10 Monday 10/02/2020 KITULGALA to SINHARAJA
After birding around the Rest House grounds and breakfast, we check out and head up to the thick rainforest at Sinharaja. On arrival and checking in we birding around the Blue Magpie Lodge.
Dinner and accommodation at The Blue Magpie Lodge.
Day 11 Tuesday 11/02/2020 EXPLORE SINHARAJA (Jeep trip and trek in Sinharaja Forest)
Early breakfast at the lodge and then jeep trip to Sinharaja Forest. Walk the jungle trail, watching and listening for 'bird waves' – mixed species feeding flocks.
Dinner and accommodation at The Blue Magpie Lodge.
Day 12 Wednesday 12/02/2020 SINHARAJA to UDAWALAWE
Early departure in jeeps to Spurfowl House with packed breakfast. We travel in jeeps along the steep up and down and windy tacks through villages, tea plantations and jungle to a house where we are welcomed as guests. Here the family invite us into there dining room where we look straight out the window to the small garden on the edge of the jungle. Spurfowl, Sri Lanka Junglefowl and Slatey-legged Crake and Ruddy-breasted Crake often appear out of the jungle and come to the garden for scraps and to drink. Other species that may be seen here are Green-billed Coucal, Red-faced Malkoha, Blue Magpie and Red-backed Woodpecker.
Back to the lodge for 10am check out
Continue on to Udawalawe.
Dinner and accommodation at Centauria Wild Hotel
Day 13 Thursday 13/02/2020 UDAWALAWE to TISSAMAHARAMA
Early morning jeep trip at Udawalawe National Park. This park is noted for it's elephants. Other mammals such as Golden Jackal, Spotted Deer and Grey Mongoose can be seen here and the birdlife is outstanding. Our jeep drivers are know the habitat very well and are alert to new species, often spotting them before the guides.
Explore Tissamaharama wetlands. We meet up with some young lads who are very observant of local birdlife and lead us to some owl day roosts.
Dinner and accommodation at Rain Tree Hotel
Day 14 Friday 14/02/2020 Explore LUNUGAMVEHERA NATIONAL PARK
In the morning we explore Lunugamvehera (Veheragala) National Park. The jeep trip offers more opportunities to see Elephants, Leopards, Deer and other mammals. The list of birds recorded in the park is 183 species.
After lunch we explore Tissa wetlands.
Dinner and accommodation at Rain Tree Hotel.
Day 15 Saturday 15/02/2020 TISSAMAHARAMA to NUWARA ELIYA
Jeep trip to Bundala National Park where we find an exceptional number and variety of waders, terns and other waterbirds.
Continue on to Nuwara Eliya which at 1868m is one of the highest towns in Sri Lanka and has a history as a hill country retreat, called 'little England' in colonial days. It is a great birding destination, with the gardens at Victoria Park attracting many endemic species and likewise with the nearby Hakgala Botanical Gardens.
We check in at the Avian Breeze and then go birding at Victoria Park.
Dinner and accommodation at Heaven Seven Hotel.
Day 16 Sunday 16/02/2020 Explore NUWARA ELIYA
A predawn start carrying picnic breakfast to reach Horton Plains National Park at first light. We spend the morning exploring Horton Plains National Park looking for the highland endemics. At an elevation of 2,500 metres, we are dressed for cold weather.
In the afternoon we go back to Nuwara Eliya and from there we explore Hakgala Botanical Gardens. This is a great location for Sri Lanka Scimitar Babbler and Chestnut-backed Owlet.
Dinner and accommodation at Heaven Seven Hotel.
Day 17 Monday 17/02/2020 NUWARA ELIYA to KATUNAYAKE
We depart Nuwara Eliya for Katunayake via Gampola, Peradeniya and Kandy. We have a short stop in Kandy for some souvenir shopping and lunch and then proceed through Mawanella, Kegalle, Nittambuwa and Minuwangoda.
Final dinner together and accommodation at Tamarind Tree Resort.
Day 18 Tuesday 18/02/2020 Tour ends
After a group breakfast at The Tamarind Tree Hotel we say our goodbyes, some may stay another day or two in Sri Lanka, others will be heading home.
The Tamarind Tree Hotel provides transfers to Bandaranaike International Airport at a very modest charge.
Please Note: The above itinerary is based on the outcomes of many previous tours to the areas described. Each season is different and as various wildlife observing opportunities arise and depending on the preferences of the group, adjustments will be made.
Inclusions - Accommodation double/twin sharing in standard rooms, travel in air-conditioned vehicle with an experienced English speaking chauffeur, local ornithologist and EtW guide, entrance fees to all sites and national parks mentioned and jeep hire, breakfast and dinners each day including group dinner at end of tour on day 16, bottled water available at all times. Forty page booklet - combined checklist, itinerary, map and journal.Tips are customarily paid to local guides, jeep drivers, chauffeurs and hotel staff, this is a hidden cost and is completely covered on your behalf by Experience the Wild.
Exclusions - Pre and post tour accommodation, flights to and from Sri Lanka, airport tax, travel insurance, visa fees, items of a personal nature such as drinks, laundry, etc., lunches throughout the tour, entry fees for sites mentioned other than included, early check-in and late check out.
Group Tour - $5995 per person twin share, single supplement $1275.